Our small but perfectly formed gift shop sells a range of gifts and souvenirs and any profits generated go towards the running of the Centre. We stock cards, postcards, fridge magnets, books about the local area, artwork by local artists, homeware and kids' beach games to name just a few items. Where possible we source items from local manufacturers and artists.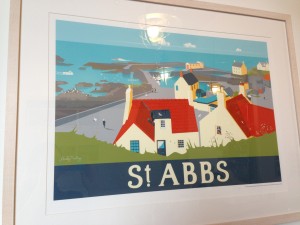 The centrepiece of our range is the exclusive St Abbs print by Andy Tuohy. Andy was commissioned in 2011 to capture the spirit of St Abbs in print format which he accomplished with reference to the vintage railway posters. The signed St Abbs print is available to buy from the Visitor Centre and is limited to just 100 copies; once they're gone, they're gone! The design also features on a fridge magnet and postcard, both available exclusively from the Visitor Centre.
To find out more about the artist and view more of his work click here. If you are interested in owning your own copy of the St Abbs print please contact us for more information.
We also have another exclusive pair of prints by Eilidh Muldoon.  Eilidh is an Edinburgh-based illustrator and designer who was commissioned in 2016 to create a different image of St Abbs.  We have these as prints and magnets.
Take a look at the pictures below to get an idea of just a few of the items we also stock and do pop in and have a look at our range as we are constantly adding to it.